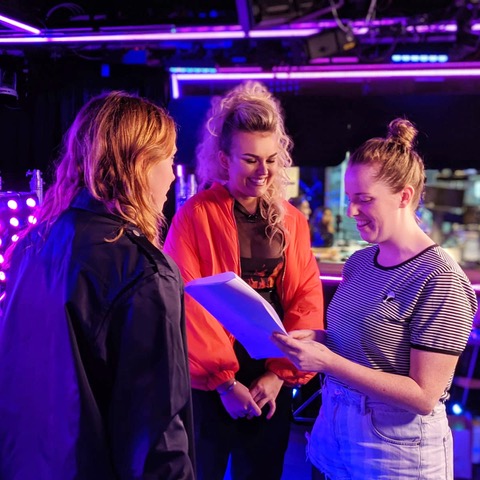 Employee Spotlight: Hannah Smith – Producer
Hannah! You're only 26 yet you've been working in TV FOREVER. How did you get started?
So I've actually been working in the telly & film biz since I was 16… 10 years this year!!
I started as a runner on news packages and corporates during the weekends when I was still at school. I'd taken an interest after enjoying the technical side of Drama (and realising I was 5 As short of ever becoming a Vet). Besides the runner work, I produced a lot of my own content including a documentary that won the John Byrne Award, which assisted me in getting the only unconditional to the Royal Conservatoire of Scotland's Digital Film & TV course that year.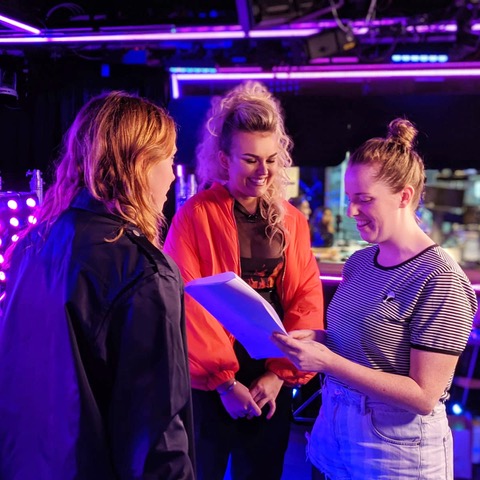 Throughout my studies I continued to balance the 12 hour days of the practical course with runner, production assistant and production coordinator jobs and even managed to pick up a BAFTA New Talent Nominations & Royal Television Society Award for short films I produced while studying.
I graduated a couple of months before my 21st birthday and soon after found my feet in London with Strawberry Blond… The rest is history!!
Is age or experience a barrier to getting ahead?
Yes, and no!
Age shouldn't be a factor, but unfortunately, I think it often is. A lot of people who have been working in the industry a while expect talent to be grown over time and thus anyone under 30 can't be taken seriously. I'd like to think that the under-30s of the Strawberry Blond team prove that wrong! But it's definitely important to show that your age doesn't define you – if you can do the job and do it well it shouldn't matter who you are, be that age, race, gender etc.
As for experience – how are you supposed to gain experience if no one gives you that first opportunity? The SB doors are always open regardless of previous experience. Again – as long as you can do the job and do it well!
You look after a lot of different aspects.  How do you juggle it all?
I have an unhealthy relationship with to-do lists… Every evening before I finish, I prep my to-do list for the following day and that pretty much keeps me on top of everything. I also always mark an email as unread until I've dealt with it!
Describe your job in three words
Babysitting Steve Wynne (the CEO!)
What's been the most surprising aspect of working at SB?
Surprising? Probably that I was trusted with such a lot of responsibility at a 'young' age. I don't think many TV execs or companies do that, so it was a nice surprise! And that I found a second family at SB – another lovely surprise I didn't expect.
How do you think content has changed in the last 10 years?
There's definitely a lot more content out there… good and bad! And there's different types. Before it was a choice of cinema or television really, but now it's cinema, a gazillion TV channels, YouTube, TikTok, IGTV, Snapchat, Facebook Live and everything in between! I know a lot of people look down upon these new avenues and the content creators that come with them, but I actually think it's really refreshing! Content is content and so long as it's good and entertaining and you enjoy it then what's not to love?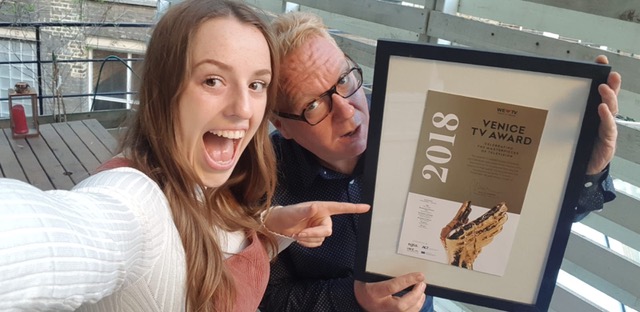 What do you look for in someone who wants to work at SB?
Honestly, cliché as it is – someone that's up for a laugh! I think it's so important not to take life too seriously! Beyond that, someone with the right skill-set (which doesn't necessarily mean previous TV experience), someone who is dedicated to their work with attention to detail and doesn't drop the ball. And someone who knows there's more to life than TV – no one wants to discuss aperture at the pub right?
What has been your most memorable experience since working at Strawberry Blond so far?
There's one night I remember very well, when I sat in my hotel room on location having just wrapped for the day.
I was reviewing rushes of a Channel 4 shoot I'd produced.
Watched an edit for a CBBC show I had SP'd.
Finalising the schedule for a Dave/UKTV shoot the following week.
And beginning preproduction for a BBC Music series.
And I just thought…. I'm not even 25 and look at what I'm doing. I then closed my laptop and watched Love Island – it was a good night.
Other highlights have included: Meeting Busted, Tik-Tok dancing with Mel C, filming Mickey Mouse at Disneyland and a drunken boat trip in Palma…
What would you change about the industry if you could?
Ageism and sexism and racism and all the isms. Oh, and pointless conference calls that could be summed up in an email.
What was your favourite TV program as a child? Why?
SMTV which I now hate to admit because big boss Steve worked on it… It was utter madness and out of control and it nailed the tone of voice to speak to kids in (i.e. Not patronising and Dec would shout at the kids and get proper competitive). You don't get telly like that now!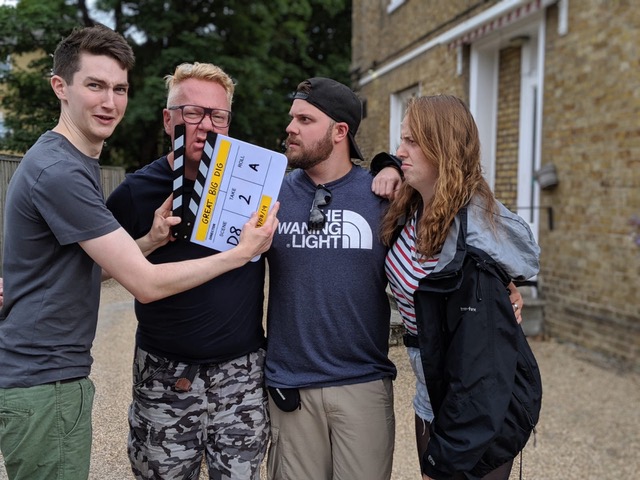 What film makes you cry?
Every. Film. Ever. I cry at dog videos on Instagram. I'm far too emotional.
What film makes you laugh?
Oh tricky… Probably one of the Marvels… Like Iron Man.
What do you prefer:
Science Fiction or Horror?
Comedy or Romance?
Adventure or Western?
Musical or Documentary? But I LOVE a stage Musical!!
You have a love of travel.  Is there an ambition to combine this with your career?
YES, PLEASE. I pitch this every day. Travel show commissioners, hit me up! (Although, sometimes it's nice to visit a place for fun and not think about work at all!)
What with those long commutes that you take (over an hour right?), which is your favourite tube line?
Victoriaaaaa baby!!!! Need that speed to get across the city.
And cheese is important to you too, right?
It's one of your 5 a day.
And finally; tomato ketchup; in the fridge or in the cupboard?
Cupboard at mine; fridge at my mums…
Social handles:
@hannaahsmith for prime Instagram content. Soon to be TikTok famous.